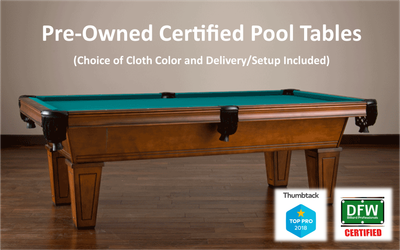 Buying a new pool table may seem like a substantial investment that depreciates rapidly. On the other hand, purchasing used pool tables can involve considerable effort and risk. Without the right knowledge, you could end up with an inferior table or one requiring extensive work, resulting in unexpected expenses.
Our Certified Pre-owned Tables eliminate the uncertainty, providing you with high-quality tables that are practically in brand-new condition at just a fraction of the cost. Wondering what "Certified Pre-Owned" entails? It's our assurance that the table you're buying has met our rigorous quality standards, guaranteeing excellent playability, aesthetic appeal, and remarkable value for money. Each table undergoes thorough inspection before purchase and necessary maintenance work to meet our high standards. Additionally, all tables come with brand new Championship Invitational cloth (your choice of color) AND professional installation INCLUDED in the price. We're confident that when you compare our offerings to the cost and hassle of sourcing a used table independently, our tables will clearly emerge as the smarter choice.
We mainly list our tables on Facebook Marketplace. Below, you'll find a selection of our current online listings. We typically have a rotating stock of 10-12 tables on hand for sale, so if nothing catches your eye immediately, don't hesitate to reach out to us for information about additional tables we may have available or are due to receive shortly.
We're also always on the lookout for quality tables ourselves. If you're considering selling your table, we'd love to hear about it. Check out the links below for tables we currently have listed online. If you don't spot anything that aligns with your taste, contact us for unlisted inventory. If we still haven't matched your needs, we're more than willing to find a table tailored to your specific requirements.
Below are some of our current listings, but please note that this may not represent our full inventory. Each item is linked to our Facebook Marketplace listings for each table. If there are no tables listed below, we are simply still gathering inventory, please feel free to contact us for any pending listings.