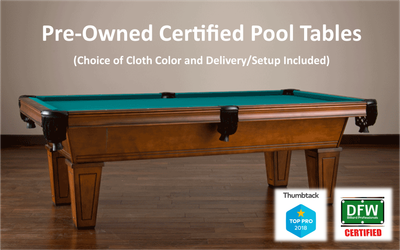 Pool tables might just be the fastest depreciating asset you could possibly own...when buying new. However, buying used pool tables carries a lot of effort and risk. If you don't know what to look for, you could and up with a poor table, or one that requires a lot of work, and a lot more investment than you had anticipated.
Our Certified Pre-owned Tables take the guess work out of the equation, and allow you to buy a high quality table, in like new condition, at a fraction of the cost of new. So what exactly does "Certified Pre-Owned" mean? This title means that the table we are selling has met a very high level bar of quality that delivers an excellent playing experience and a beautiful appearance at an incredible price. Each table is inspected before they are purchased and had any and all maintenance work done to ensure they meet our high standards.
Furthermore, every tables comes standard with brand new Championship Invitational cloth (your color choice) AND professional installation INCLUDED in the price
. We are confident that when you compare the cost of buying a used table on your own, having it moved and setup, along with new cloth installed...you will quickly find that our tables are a no-brainer.
We primarily list our tables on Facebook marketplace. Below is a list of some of the tables listed online currently. We usually always have 10-12 tables on hand available for sale, so if you aren't seeing anything to your liking, feel free to reach out to find out what tables we may have, or are getting in soon.
Furthermore, we are always looking for great buys ourselves, so if your looking to sell your table, let us know that as well. Below you will find links for any tables that we do have currently listed online. If you don't see anything that fits your fancy, contact us about inventory not listed. If we still don't have what you are seeking, let us find something for you specific to your needs.
Here are some of the listings we have at the moment, however, this most likely doesn't represent all that we have. These each link to our Facebook Marketplace listings for each table.