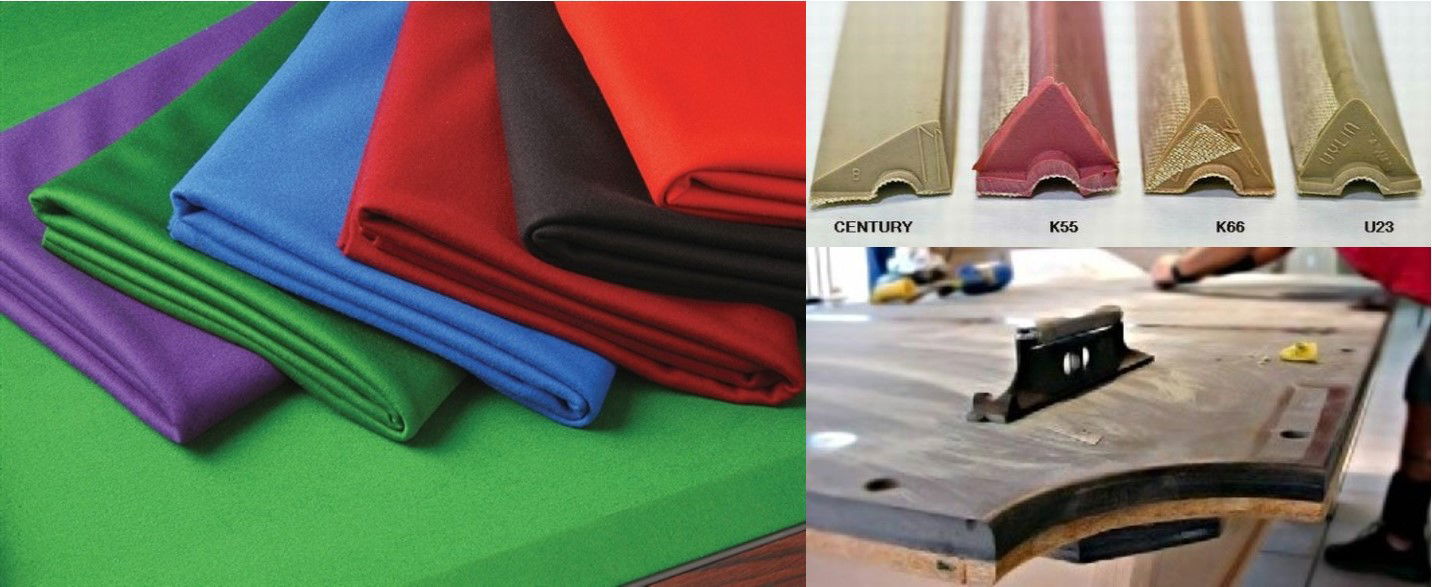 Whether it be Re-felting, cushion replacement, leveling, table breakdown, transport and setup...DFW Billiard Professionals has you covered! Furthermore, when you combine table repair and cue repair services in the same visit, you can benefit from tremendous savings. We service residential game rooms, as well as commercial pool rooms throughout the DFW area.
Pool Table Felting - Our pool table services include removal of old cloth and staples, slate maintenance (chips, scratches, etc.), installation of new cloth, leveling of table and overall conditioning of the table. We offer a variety of cloth options and can help you select the best cloth for your needs and price range. Pricing for pool table re-felting is as follows:
- 7,8 or 9 Foot Tables - $275 + Cloth & Supplies*
Pool Table Cushion Replacement - Pool table cushions consist of rubber that can harden over time. This hardening causes balls to not react off the rail correctly and often results in a "thud" noise when the ball hits it. These are often referred to as "dead rails". When this happens the cushion(s) must be replaced. Pricing for replacing cushions runs $450 plus the cost of materials (cushions and cloth). Our standard cushion recommendation are Championship Tour Edition cushions and carry both a lifetime parts and labor guarantee. No other competitor offers this level of confidence in their product or work.
Pool Table Moving & Assembly - Do you have a pool table you need assembled, or did you recently purchase a table and need it moved and assembled; or, maybe you are doing renovation work in your home and need your table moved temporarily. Regardless the task, we have you covered. Our professional mechanics can handle just about any situation to ensure you table get in place and ready to play on at your convenience.
Our table move and assembly prices are as follows:
Same location table move - $300. This fee is for moving a pool table within the same building. Additional charges apply for navigation of stairs or have to make multiple visits to breakdown and setup.
Different location table move - $350. This fee is for moving a table from one location to another within 20 miles. Additional charges apply for navigation of stairs or for transportation of table over greater distances than 20 miles.
Table Assembly - $250+. This fee is for assembling a table that is already at a location and apart. This fee assumes all parts are accounted for and that cloth/rails are in good playing condition. Additional charges do apply for brand new table setups and for situations that require replacement of parts, or other special circumstances.
Additional Charges
Stair navigation Fee - $25 per flight (up or down).
Table Move Travel Fee - $1.50 per mile over 20 miles between table move locations
Repair Travel Fee - $1.50 per mile over 60 miles from our Ennis headquarters
Return Trip Fee - $50 plus any travel fees (see above)
We backup our pool table repair services with a 100% satisfaction guarantee, as well as a price match guarantee!**
* Cloth and supply cost varies depends on client preferences and repair needs. Cloth prices vary based on manufacturer, type and table size. Supply costs depend on manufacturer of table and what may or may not be needed for the repair service. Such supplies could include feather strips, shims, etc. We strive to only replace and use whatever supplies are necessary for a quality job. These costs can be estimated, but won't be fully known till after table repair is complete.