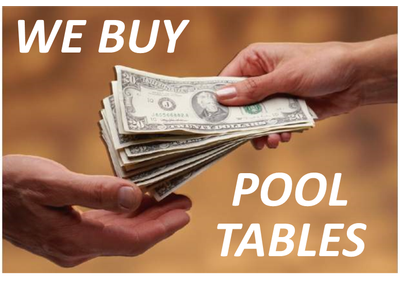 Are you in the Dallas/Fort Worth area looking to sell your pool table but don't want the hassle of listing the table for sale, dealing with illegitimate calls or having strangers come to your home? If so, then we might be the right fit for you. As a pre-owned table reseller, we are always searching the market and making offers on quality tables. However, we also have many who contact us directly and we purchase their table without all the hassles that come with such an endeavor.
The process is simple! Contact us directly either by phone or email and send us pictures of your table and your time frame for selling the table. We will promptly call you back and make you an offer that includes professional pickup and cash payment. Many of our sellers like the fact that we not only make them a really fair offer for their table, but they have piece of mind that a qualified, equipped, trained and insured company is removing the table from their home.
The only default qualifying criteria we have is that we only buy slate pool tables. Other than that, most other issues come on a case by case basis. Our offer prices range from $250 - $750 depending on the table. Should you not want to accept our offer, we would be more than happy to give you all the information you need to properly list the table yourself and get top dollar for the table. Our goal is to serve those who reach out to us in any way we can.
Lastly, should you not want to accept our offer, but would prefer to get a maximum dollar tax write-off, we do accept charitable donations of tables with all proceeds going directly to
Angels Walking by Faith Women's Shelter
.
Our owner serves on the board of this amazing charity that looks to support local women and children in need of a transitional home to weather the current storms they find themselves in. Angels Walking by Faith is a fully accredited 501c3 and can provide you with a charitable certificate that you can then file with your annual taxes and write off what you believe the full estimated value of the pool table is.
So no matter what your situation with selling your pool table, DFW Billiard Professionals has options worth considering. Call us , text us, or send us an email. We would love to discuss your pool table situation with you.